All You Need To Know About Ghost Pepper: Bhut Jolokia Chilli
Posted by Admin on July, 08, 2021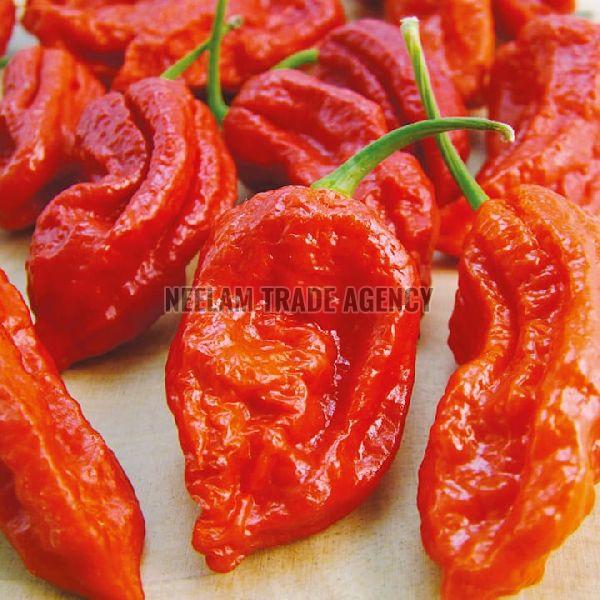 Bhut jolokia is a natural pepper that can mainly be found in Northeastern India and Bangladesh and supplied by bhut jolokia chilli supplier there.

In Sri Lanka, however, sometimes species can be found as well. Since the Assam "bhut" means "ghost," this pepper is commonly known in the western world as the "ghost pepper." The peppers have very thin, easily tearable dented skin.

Bhut Jolokia's Origin:
The chilli was derived from the Assam state in the north-eastern portion of India. Assam's Topography promotes the production of ghost chilli in addition to tea tradition. About 20 and 30 degrees between day and night and humidity for ghost chilli is about 70% optimal.

In those days, the villagers used to place ghost chilli on ropes to protect their homes from elephant herds.

Commercial Cultivation Of Bhut Jolokia:
Earlier cultivation only occurred in Assam but in the neighbouring states of Nagaland and Manipur, too commercial cultivation has begun. Assam's poverty line covers about 30 per cent of the population. And the decreasing market for tea in the region will profit the state from the production of ghost pepper.

The Assam government is seeking to encourage Bhut Jolokia cultivation in the area by offering farmers incentives. The money is given under the North East Horticulture Mission of the central government. In contrast to export prices, the local market price is minimal.

Plants Growing: The height of the plant ranges from 1.2 to 2 meters depending on the pot size and the spacing in general. The leaves of the plants are of limited colour and grey. Proper growth of the plants requires high temperature and soil moisture and a soil pH of between six and seven. The plant takes about 100 days to bloom before flowering and another 100 days.

Income And Consumer Demand: Recently, demand for Bhut Jolokia has risen not only in Asian but in European markets. European imports are more than 2 times higher and Morocco and Turkey are the main contributors to the increase. France, Spain, the UK and Romania are other countries.

With regard to income, an average farmer will grow approximately 1500 seedlings per bigha, about 0.13 hectares of land. An average amount of 3 kilos of chilli per crop cycle is generated and benefit amounts to between 20 000 and 25 000 per bigha of land. The price per kg is locally between Rs 300 and Rs 600 during the off-season period.

Uses of Bhut Jolokia: Fantasy Because of its strong warmth and fragrance, chile is used to cook the chilli sauce. It is possible to dry and use the same as powder. It's new from the north-east as an applied to their different local cuisines.

Future of Bhut Jolokia: The concentrations of oleoresin and capsaicin in Bhut Jolokia Chilli are very high. Demand in both the local and foreign markets is very large for these components. Recently, in Western markets such as the USA and Europe, Chile has become widely embraced. Bhut Jolokia will certainly reach the foreign markets with its hotness.


Final Words
In Assam, projects for exporting Ghost Chili goods to major European and US markets have already been pursued. Commercial Bhut Jolokia farming for Indian farmers seems a lucrative choice. For farmers and other stakeholders, contract agriculture may be one of the choices in the future.
This entry was posted on July, 08, 2021 at 14 : 48 pm and is filed under Jolokia Chilli. You can follow any responses to this entry through the RSS 2.0 feed. You can leave a response from your own site.